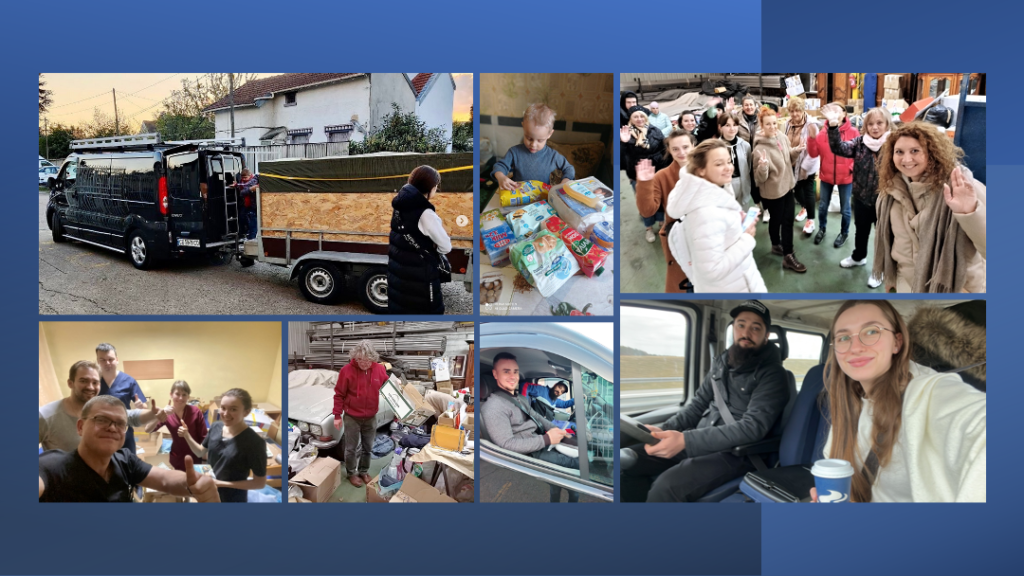 Our Charitable Giving Committee is supporting the association "Andorinhas", based in Houilles-Carrière sur Seine, which was founded by Snijana and Yuriy, a young Ukrainian couple who are working with others for peace in Ukraine. Snijana and Yuriy left their native Ukraine at the age of ten to live in Portugal, hence the name of their association, "Andorinhas", which means "Swallows", a symbol of nature, the arrival of spring, hope and better days. And it is this philosophy that is reflected in the spirit of and in each of the actions carried out by Andorinhas.
Andorinhas is in direct contact with doctors in Ukraine and is therefore constantly updated on the most essential and least available products, which allows them to meet needs quickly and in real time through targeted collections and deliveries. They make the round trips to eastern Poland themselves, where local members of their network take over to transport the donations into the heart of Ukraine, in particular to the Pediatric Hospital in Kyiv, as well as those in Kharkiv, Kryvyï Rih, Mykolaiv and Kherson. You can follow them on Instagram here.
Faced with the huge influx of refugees in recent weeks, Andorinhas is also focused on Ukrainians who have arrived in France, by supporting them and helping them integrate into their host country.
At our Summer Fête this Saturday, we will have a collection for Andorinhas, where the following donations can be dropped off, we will also have a tin for any financial donations to Andorinhas:
MEDICINE AND HEALTHCARE SUPPLIES:
Medical alcohol
Betadin
Physiological serum
Insulin syringes and needles
Syringes with/without needles
Painkillers & anesthetics
First aid kits
Survival blankets
Bandages and dressings
Surgical plasters
Medical Scissors
FOR BABIES
Powdered milk for newborns and premature babies
Nappies size 5+
Wipes
FOR UKRAINIANS IN FRANCE
Food (non-perishable)
Tea & coffee
Cereal & ground oats
Milk (UHT)
Fruit compotes
Personal hygiene products: soap, shower gel, shampoo, moisturiser, toothpaste and toothbrushes, tampons / sanitary pads for women, cotton pads, toilet paper
Tissues (small sachets)
School supplies: cahier petit & grand format à grands carreaux, erasers, pens, colouring pencils, feuilles simples et doubles)