---
UPDATED Wednesday 2nd June:
A BROCANTE SOLIDAIRE organised by our partner BunCœur Damoclès will be held in Salle St Vincent in LE MESNIL LE ROI on Saturday June 5th & Sunday 6th from 8am until 6pm. If you are missing our Summer Fête this year, this is a good opportunity to support our local charity!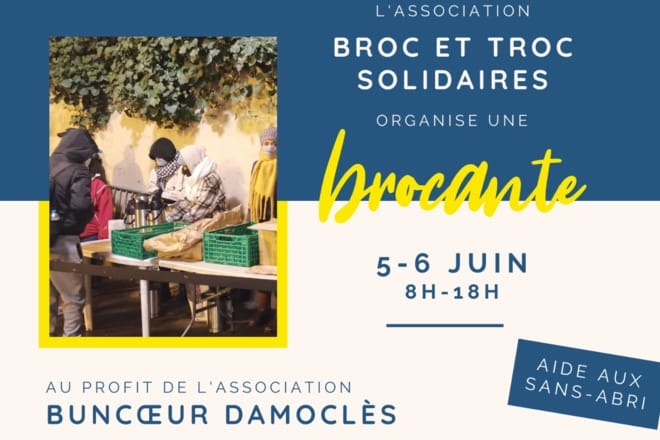 ---
Introducing BUNCOEUR DAMOCLES, a local charity supported by Holy Trinity Outreach
BunCoeur Damoclès, which started in February 2020 in Viry-Châtillon, distributes hot soup and other food (about 1000 meals each week), blankets, clothing and hygiene products to people (mainly men) sleeping out on the streets of Paris, 3 to 4 times a week. One of the 3 founders, Pierre, 19 years old, lives in Maisons-Laffitte and is currently setting up the Maisons-Laffitte branch with the help of the Scouts et Guides de France. He badly needs background support especially as all the Charity's fundraising activities had to be suspended due to COVID.
He has developed partnerships with various bakeries and restaurants in Maisons-Laffitte (Ballon Voyageur, Graine de Gourmandise) providing food/cooked meals and storage space for the various donations the Charity receives. Pierre also goes round schools to collect material and to increase young people's awareness of drug abuse and of the difficulties of life on the streets.
HTCML Outreach has already helped by financing the repairs of the two vehicles used for their distribution rounds (brakes and steering problems) and by organising the access (on a 3-month trial period) to a desperately needed kitchen space on Saturday afternoons to prepare hot soup and coffee that will be distributed in the evening. We are also starting to help with collecting clothes, hygiene products and are looking to do more.
Ways you/we can help:
Become a member of the charity (€5 per year, https://www.buncoeurdamocles.fr/l-asso/agir/j-adhere.html), which will help with petrol, paper cup expenses etc.
Introduce Pierre to various schools where he can present the work done by the charity
Collect hygiene products and men's clothes (brought to the restaurants mentioned above, for now), toothpaste/brushes, liquid soap, men's clothes, men's shoes, hats, gloves, jumpers, tents, tarpaulin/protective canvas, scarves, bath towels, etc and helping with the sorting out and the transport
Collect food: rice, pasta, tomato sauce etc. Pierre is hoping to organise collections of the most needed items in the near future, so WATCH THIS SPACE!

For more information contact Sylvaine Hughes 06 78 61 03 87 or https://www.buncoeurdamocles.fr