Booking is now open for our Pentecost Chaplaincy Weekend Away at the lovely Sanctuaire de Sainte Bernadette in Nevers from the evening of Friday 3rd June to lunchtime on Sunday 5th June, where we will be exploring more how to Build a Firm Foundation in God, individually and as a church community. Paper booking forms are also available at the back of church.
WHEN: 3rd-5th June 2022. Please arrive on Friday evening (any time on Friday from 2pm onwards is fine, just let us know on the booking form if you would like a meal at 7pm) and we'll leave after Sunday lunch (around 2-3pm). If you can't come for the whole weekend but would like to join us for a day or one night, please speak to Charlotte or Jenni.
WHERE: Sanctuaire de Sainte Bernadette, Nevers, Bourgogne-Franche-Comté. Check out their website (https://sainte-bernadette-soubirous-nevers.com/fr/) for all the accommodation details and their facilities. The Centre is a 2.5-3 hours drive south-east of Maisons-Laffitte.

WHO: Everyone is welcome whether you call yourself part of Holy Trinity Church or not. We can help with lifts and financial support if you need.
WHAT: There will be a mix of teaching from the Bible, group discussion, sung worship, time for prayer and reflection, a programme for children and youth, time to socialise, eat, and generally enjoy unhurried time with God and one another.
WHY: The weekend away is a great opportunity to grow as a community and draw closer to God. It gives lots of space to make new friends, get to know one another better and have lots of fun.
HOW: Signup online by clicking here (before 30th April for Early Bird prices – see below) or contact Jenni by email here. Paper signup forms will also be available at the back of church.
ACCOMMODATION AND COST:
There are different types of rooms in the centre (all ensuite with shower and toilet). There is an Early Bird option – if you sign up and pay by 30th April 2022 you'll pay the prices below, after that all prices go up €15pp, so please try to sign up early (even if you pay later). Bookings will close on 15th May 2022.
Adult (single room) – €165pp
Adult (twin/double/triple* room) – €150pp
10-17 years (twin/triple* room) – €130pp
3-9 years (twin/triple* room) – €90pp
0-2 years (travel cots can be put in single/double/triple* rooms) – free
(*triple rooms are available as three single beds or as a double plus a single bed)
We will send you an email confirming the the amount to pay after you have signed up online. This covers the accommodation, food, teaching, and the youth & children's programme for the weekend (Saturday and Sunday). It doesn't include transport or any extra money you may want to spend.
You can pay by cheque, card, bank transfer, or in cash. Payments can also be done in instalments (talk to Jenni for details). If money is an issue for you, please don't let that stop you coming – we would much rather have you than your money, and we have a bursary to help people out. Just sign yourself up and then talk to Charlotte or Jenni.
TRANSPORT: When you sign up, you'll be asked about whether you intend to drive yourself, if you can offer a lift to someone else, or if you need a lift. We'll be trying to fit everyone into cars. If you're getting a lift, it would be great if you can contribute to petrol costs, but if money is a problem please don't worry as we can help you out. There are also regular trains from Paris to Nevers, the station is a short walk to the centre.

FACILITIES: The venue has lots of space for us to meet, eat, sleep and socialise, as well as space for quiet time and reflection, so it's ideally suited for us. There's lots of space outdoors too!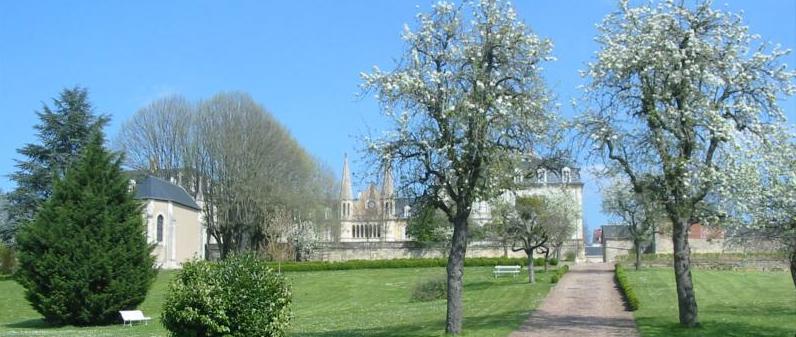 FAMILIES: There will be a kids and youth programme provided for school age children during our teaching sessions. For younger kids there is space for a parent-led creche if needed. If you have any questions or concerns as a family please speak to either Charlotte or Jenni, who will do their best to make things easier for you.
WHAT TO BRING: Please bring your own facemasks, towels and toiletries. Also bring a pen, notebook and a Bible if you have one.
COVID: At the moment, everyone 16 years old and over needs a pass vaccinal to attend the weekend, and 12-15's need a pass sanitaire. If you cannot come last minute because of a covid infection, a full refund will be given when you provide your positive test result.
QUESTIONS? We'll be sending out more information to everyone who signs up, but if there's anything else you need to know beforehand please contact Charlotte or Jenni.
Signup online by clicking here (before 30th April for Early Bird prices) or contact Jenni by email here.